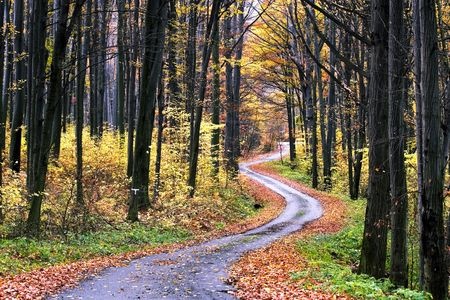 Red, green, ol' rocky road, tell me what you see;
Tell me inside out, tell me upside down,
All around the block, all around the town.
Red, green, ol' rocky road, tell me what you see.
This great old folk song has recently regained the public's ear due to its inclusion in the Coen Brothers' film Inside Llewyn Davis. But I remember appreciating it long ago, when I first heard the Peter, Paul and Mary version. As a kid, all I had was my gut reaction to it – now, as I watch the film, knowing a little more about myself, and life, I realize that what is so evocative about the song for me is its attitude: the singer is contemplative — asking, not telling; open to experience, not closed; willing to trust and be surprised, not guarded and judgmental. He is saying "I want to know you," not "What do you want of me now?"
What I didn't know then was that this song was a part of my journey, because I see now that what I appreciated about it was how it beautifully expresses the therapist's point of view. Tell me all about yourself: red and green, up and down, inside and out, rocky and smooth – I want to know how you see it, how you feel it. And yet, being interested, and open, is only part of doing therapy. There is a delicate balancing act involved – you are being hired as an expert in human behavior and change, and yet part of your job is to be willing to not know this person before you, to be surprised, to have it be the first time you have ever heard this exact story, to find and appreciate the unique in this person.
Every patient wants the reassurance of hearing, "Oh yes, I know exactly what to do with your type – I've heard it a million times before," and yet of course, at the same time they don't want this at all – they want to hear, "Hmmm, this is interesting – different, this is not obvious, this is a challenge." So, the therapist's delicate balancing act is to keep both of those things true at the same time, because they are both true at the same time.
It brings to mind a woman I used to see. In a therapy session, she was working through some very painful and confusing issues, and the way forward was not clear to her at that moment. But I knew she needed to stay with the process of not knowing, and I kept her at it. Suddenly, she looked up at me plaintively and said, "Do you know what you're doing?"
I immediately answered, "I don't know what I'm doing – but I know what to do."
At that, we both laughed out loud, because as inane as it sounded, we both knew that it was true. Why did it break the spell of her desperation and reassure her? Because I was being real and human with her, because I had enough confidence in myself, and trust in her, to tell her the truth about not knowing in the moment, while also knowing that in the larger sense, I knew what I was doing.
This is the challenge of therapy, and the joy: to ask, not tell; to know, and not know, at the same time.
Red, green, ol' rocky road – tell me what you see.
Note: All clinical vignettes herein are significantly altered to protect patient confidentiality and privacy.