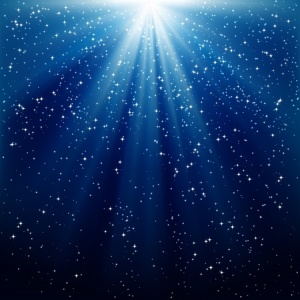 It's Christmas Eve.
I've been allowed another Christmas Eve.
I never thought I would live past thirty, and yet, here I still am, a hell of a lot of years later. I thought I might end up living under a bridge, and yet here I am, in a house where I can look out my window and see the lights of San Francisco twinkling. To my right, a fire is blazing in the fireplace. Across the room, the Christmas tree lights are also twinkling.
Lucky me.
Of course, I've worked hard – real hard – to get the things I have, but I'm not kidding myself: it has a lot more to do with luck than it does hard work. What about the people who are spending tonight, Christmas Eve, in a homeless shelter somewhere? Did they just 'forget' to work hard? I think we all know better than that. We had a real nice ham for dinner tonight, and all through dinner, I wondered how many people in the world, how many millions, tens and hundreds of millions, would be flabbergasted to have access to a whole ham for a meal, as much as they could eat. For much of the world, it would be a once-in-a-lifetime thing to have a whole ham for a meal, or a whole turkey, a whole chicken, a whole anything.
Angus sits by my side as I eat, his eyes glued to my every movement, his whole body tense in anticipation of getting a scrap from the table. If he gets a scrap, he gulps it down as fast as he can. And if he gets more than a scrap, he runs off to where he can devour it alone, unseen and unmolested by potential pack-mates wanting their share. And I think to myself, the way Angus operates is probably the way the vast majority of humanity operates: get as much as you can while you can, and eat it fast, so you can live to eat again tomorrow.
The accident of birth: that's part of what I mean by luck. I could have been born the seventh child of a desperately poor farm family in 1930s Oklahoma. Or in a broken-down trailer park outside of Banning, in the Mojave Desert, my father an alcoholic wife-beater, my mother so depressed she couldn't even get out of bed.
Would my life be different than it is now?
Of course it would. We give ourselves so much 'credit' for what we are, what we have, that we lose sight of how much luck and happenstance play into it all. I lost a child because some guy with ADD took his eyes off the road for an instant and rammed, full speed, into the back of a Ford Explorer that happened to be carrying my son back from a family party in Modesto. But what if that Explorer had left Modesto just five seconds later?
And, on the other side of the coin, how many times have I had narrow misses on the freeway: someone a mile ahead of me skids out and spins around, taking out three other cars up there. By the time I get there, it's all over, but it could have been me. A patient of mine was almost annihilated by a guy who ran a red light at over eighty miles an hour. Why wasn't she hit? Because she was too busy checking her cell phone to notice that 'her' light had changed to green. That's how close it was, how 'lucky'. How many times, as a pedestrian, have you almost been hit by a car? How many times, when driving, have you almost hit another car, or noticed something "just in time" to avert catastrophe?
When I was maybe nineteen, I was driving back home, very late at night, from my girlfriend's house. I was on the Hollywood Freeway, and made a normal lane change, to my right. Unfortunately, there was a motorcycle there, in my blind spot, and in his mind, I had "cut him off."
A real big guy.
On a real big motorcycle.
A real scary big guy.
And he didn't take it too well. He tried to force me off the freeway, cutting in front of me repeatedly and almost making me skid into two other cars. He was shaking his fist and screaming at me to pull over. Well, no way was I going to pull over and let this guy 'have at me' at two in the morning on a lonely freeway off-ramp.
And that made him madder. I mean, I could see the spittle flying out of his mouth as he shrieked curses at me.
So he chased me until finally, I reached the off-ramp for my parents' house. What should I do? If I got off and slowed down, he would certainly catch up to me and do god knows what to me. But I couldn't just stay on the freeway all night, playing bumper cars with this lunatic. I hoped that if I stayed in the fast lane and didn't give any indication that I was getting off, then at the last minute, suddenly cut across the whole freeway and ducked onto the off ramp, I might fool him so that he'd fly past the ramp.
No such luck: though I pulled it off perfectly, doing a stunt-man level job, jerking my wheel to the right, cutting across three lanes, and literally flying onto the off-ramp, he stuck to me like glue.  God how I wished I had one of those James Bond cars that could spurt oil out the back and make him skid!
Now I was really scared: I didn't have the protection of high speed anymore, though I must have been doing close to sixty down near-deserted Oxnard Street. He pulled up next to me and  shrieked and screamed like a banshee, while trying to force me off the road. It's funny how much can go through your mind in milliseconds. I remember thinking through the whole thing in great detail, as I careened down the street: if I had done what he wanted, and pulled over immediately when it first happened, could I have tried to explain it to him rationally? "Look, man, I didn't even see you: how could I have intentionally cut you off when I didn't even see you?" If I had done what he wanted then, could I have averted this whole thing? Because now it was way too late for talk, man: it was obvious that, in his mind, the whole chase had just confirmed his belief that I had done 'cut him off' on purpose.
I don't know what state he was in when it first happened, but now, he was really out to get me – out for blood. It was clear on his face: he was crazed with rage. There would be no 'talking' now: he wanted revenge – his own brand of 'justice.'
Oh no – I could see the light turn red ahead of me. It was a big intersection. I had to stop. Or wait – should I slow down, then suddenly veer off and take a right? Or fake slowing down, and then run the light? No – there was a lot of cross-traffic: I had to stop!
As I slowed down, he pulled up next to me and I could see him yank out a gun, a kind of sick, twisted sneer on his face.
He yelled, "Roll down your window: now!"
All kinds of things ran through my mind: I remember thinking, "This is a busy intersection; could he get away with just shooting me right here, in public?" I even wondered if he might be some kind of undercover, or off-duty, cop: the gun looked like one of those snub-nosed .38's that cops carry.
Suddenly, I had a plan. To 'get me,' he had to get off his bike, didn't he? He wasn't going to shoot me through the rolled-up window. So I just waited, looking straight ahead like a guy waiting for the light to change, unable to move until the light changed. Finally, he got off his motorcycle and came at me, the gun in his right hand, yelling, screaming at me in rage: "Roll down your fucking window, you no-good . . ."
I floored it, screaming through the intersection on the last of the red light. Thank god no trucks or buses were coming through, though I do think I remember a very surprised guy in an MG doing some fancy maneuvering to stay clear. Now I could see the biker in my rear-view mirror, gunning his bike like crazy through the intersection, more enraged than ever. My parents' street was the first right after the intersection, and again I waited til the last minute, then fishtailed my VW bug into a sliding right turn, hoping to see the biker flash by the turn in my rear-view.
Nope – here he came, expertly sluing his handlebars back and forth to keep himself running straight at me.
I had the street memorized, from all the years I had walked it as a kid: it was the thirteenth house up.
Almost there, almost there . . .NOW!
I skidded to a stop at the curb, tore the car door open and sprinted for the front door, fishing around in my pants pocket for my key as I ran. I remember thinking to myself, "Don't screw around jabbing the key at the lock like a crazy man. Make it work the first time – it might be the only time you get." I could hear something behind me as I ran, but I couldn't focus on that – I had things to do. I made it to the door, got the key in the first time, turned it, and pushed.
I was in!
I stood there leaning on the door for a good ten, twenty seconds, panting and trying to get myself under control. Then, of course, it finally occurred to me:
He knows where you live!
My Dad came out to the living room, squinting in the light: "What the hell? What's all the commotion out here?"
I talked in bursts, my breath still not stabilized: "Guy. On motorcycle. Tried to kill me." I pointed to the street. "Is he still out there?"
Dad looked through the thick curtains. "Nope – there's nothing out there now."
We went out to the kitchen table and I told him the whole story, through ragged breaths. He said he didn't think the guy would be back, that it was probably a thing of the moment, that when he got wherever he was going, he'd probably rant and rave a while, get drunk, and sleep it off. That by tomorrow, he and his friends would be laughing about how he put the fear of god in some punk kid in a bug.
Well, I don't know if all that stuff happened, but he never did come back.
And so I lived.
And so I went on to become a psychologist.
And so I was able to help a bunch of other people want to live.
Well, the fireplace log is burning low, and some of the lights in San Francisco are even going out, so I'd better go now, because I have to get up tomorrow and have the one more Christmas morning I've been allowed – with my children.
The children I had because I lived.
See what I mean about luck?
Note: All clinical vignettes herein are significantly altered to protect patient confidentiality and privacy.