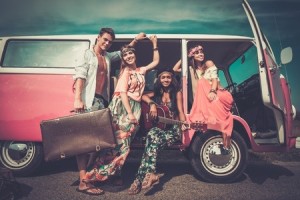 See? I am capable of writing, catchy, 'marketing' titles, as all the "How To Grow Your Blog" people keep telling me to do! Next time, I may write about Ancient Secrets Of Reverse-Aging, followed by Losing Weight Without Diet Or Exercise, and maybe How To Date Without Leaving Your Mother's Basement – am I on the right track here?
Well, all marketing aside, the truth is, the title of today's blog is unfortunately not just a come-on. I've wanted to write about this for a long time, but hesitated because, let's face it, therapy has been under attack for a long time now, both from within and from without the profession, and I didn't want to be the one to put yet another spear in its side. So permit me to just pen a quick anticipatory defense of therapy, then we'll move on to our target for tonight:
Therapy is the reason I'm even alive and writing this. Without years of at least halfway-decent therapy, I'd either be living under a bridge somewhere, or long gone from this mortal coil. And practicing psychotherapy has also enabled me to have a functional role in society, doing what I'm most suited for, and I think I can say without undue horn-blowing that I have been responsible for saving, or improving, many, many lives over the years I have been in practice. I write about therapy, I love being a therapist, and I'd like to say a public and deeply-felt thank you to Sigmund, Carl and all the rest of the gang who made the whole thing possible. Okay, all together now:
Every session's sacred, every session's great – if a session's wasted, Freud gets quite irate. 
Alright, now that that's out of the way, I do have a few items on the negative side of the ledger. Psychotherapy is ultimately about the Self: claiming the Self, reclaiming the Self, rehabilitating the Self, finding the Self, enabling the Self. And that's fine – the 'standard' therapy patient is someone who, for whatever reason, has not had the opportunity to establish a strong, secure, delineated sense of Self, the lack of which results in low self-esteem, confusion, insecurities, vagueness about life purpose, unacknowledged feelings, difficulty with boundaries and limit-setting, and a host of other problems. And psychotherapy is tailor-made for those people: that type of person, in the hands of a competent, dedicated therapist, stands a very good chance of finding their way to a life with more meaning, satisfaction and purpose.
And in doing therapy with this kind of person, there are certain basic principles that inform and guide the work, either explicitly or tacitly. These have never been stated openly, at least in lay terms, but I think this would be a fair listing of some of them:
Getting in touch with your OWN feelings is a good thing, and letting your feelings be your guide in life is an even better thing.

If something doesn't work for you, you should probably not do it.

Your tendency to subsume your own experiences and needs to those of others has caused you problems: we are working to bring your experience to the fore and to help you feel that your perceptions and needs are at least the equal of everyone else's.

If and when you stop 'taking care' of other people and start getting your own needs met, you will not only feel more fulfilled, but ultimately be more available, in a more real way, to attend to the needs of others without sacrificing yourself emotionally.
Okay, I could go on and on, but I think you get the basic idea: for people who have been minimized, marginalized and squashed (by others, and ultimately, by themselves), it is necessary (as an emotional 'corrective') to bring their own experience to the forefront, and to honor it above all.
In a crude form, you could express the task thusly:
First YOU – then everyone else.
As I said above, this goal is only an emotional corrective to having stifled their own experience before this, much the same way that Affirmative Action is a (hopefully temporary) societal corrective that exists in order to try and counterbalance forces that were out of balance before. A pendulum that is 'out of whack' needs to swing back 'too far' the other way before it can gradually swing back to the mid-point. For example, we all recognize and accept that a teenager has to 'over-correct' in the direction of rebellion, in order to throw off the strictures of childhood, until ultimately coming back to the center-point of normal adulthood (we hope!).
So far so good. But here's the thing: these corrective principles, which were developed in a particular context (psychotherapy) to help a particular kind of person, don't stay put. They leak out into the mainstream willy-nilly, out of context, and get appropriated wholesale, and applied across-the-board, by all.
And in my generation, that admittedly did sometimes take the form of "Turn on, tune in, and drop out," or "Do your own thing." The older generation saw this as an abnegation of responsibility to others, a rejection of what they had worked (and fought) so hard to preserve, and a justification of self-absorbed 'navel-gazing.'
Here's one small instance of what I'm saying: I started my career in the Seventies, working in alcoholism rehab. I worked with people struggling with substance abuse, but naturally my help was also needed by the 'significant others' of these addicts and alcoholics. You've probably wondered to yourself at times – why would someone stay with an abusive alcoholic or addict? Who are these people who would sign up for continued pain, disappointment and suffering that is virtually guaranteed? Well, the answer is complicated, but many of these people are the kind I was describing earlier: people who have a hard time knowing what they want, have a hard time asking for what they need, and on some level, for them it's more comfortable, and more familiar, to focus on the needs of someone else, to continually 'monitor' someone else, even if it means living on a roller coaster of fear and dread.
For these people, the Al Anon program was developed. With group support and a spiritual program, it helps people focus on (and meet) their own needs, and learn to balance themselves inside, rather than looking to the addict for a stability that is not there, and therefore focusing on and resenting the addict. And a few years later, along came Melody Beattie and others, who developed the concept of Codependence (see Codependent No More, for example). This gave a name (yay: we all love a name!) to this phenomenon I described earlier, i.e. that of being a 'good person' by orbiting around another person's life and (seemingly) not having many needs oneself. I won't go into the concept any further, because I'm just using it as an example, but like I say, this concept 'leaked' out into mainstream society and has been picked up by anyone and everyone.
So now, I frequently hear extremely self-centered people, when asked to do something for a friend, a partner, or even a dying parent, say,
"The hell with that: I'm not going to 'co' her anymore! What about me?"
The concept of codependence, a perfectly useful one in the context in which it was developed, has been lifted, stolen and appropriated for constant misuse by narcissistic, self-absorbed people in all manner of situations.
Likewise, the whole idea of Self (as developed in, yes, psychotherapy), and the need for under-Selfed people to 'correct' by putting themselves first sometimes, has been swallowed whole by a society that is increasingly self-absorbed. I am not proud to acknowledge that it was my 'generation' that was first called the Me Generation – and with some justification.
But you have to understand, at that point (say, the Sixties), it was a necessary corrective to the so-called Greatest Generation before us, who, by necessity in most cases, navigated the Depression and the World War II era by emphasizing self-sacrifice, non-expression of feelings, self-sufficiency, and modesty in all areas of life. Ask a World War II Medal of Honor winner about his feats, and he will invariably say,
"I just did my job. The real heroes are buried in Normandy (or Iwo Jima)."
And that modesty, that self-deprecation, is a very special quality – one I admire with all my heart. But, 'we' – i.e. my generation, and all the people who entered psychotherapy beginning in the Sixties – felt we needed something more than being the father who worked his ass off, then looked down at his shoes and refused to talk about anything real, or the mother who tirelessly slaved for her family, without an expressed life of her own.
We needed more out of our parents than that, and more to look forward to than a life of duty and self-sacrifice, and this is where therapy was of tremendous help – in claiming these needs without guilt or shame, and in providing a safe framework for finding a more meaningful, richer life for ourselves.
But as helpful and as transformative as therapy was, it was inevitably hijacked by society. By the Sixties and Seventies, you started hearing therapy talk everywhere, like "guilt trip," "ahh – she's got a complex about it," "that's just your family shit," and "you're so paranoid." And today, people throw around terms like bipolar, transference, regression, personality disorder and borderline, without a thought. They use them for name-calling, for labeling people, and for excusing all kinds of inexcusable behavior.
So, I wanted to write this, in public, as a therapist, to say in all honesty that sometimes, when someone says, "Therapy just teaches people to be selfish," or "Since you got into therapy, it's all about you," well, sometimes they're right.
And sometimes, when people misuse therapy talk and therapy concepts to justify meanness or obliviousness to the needs of others, well, it makes me feel bad, and I do feel that therapists have had some part in creating a country of self-absorbed people.
But you have to understand that therapy, and therapy concepts, were necessary as a corrective to a generation that was silent, undemonstrative and sometimes too self-sacrificing. And therapy was – and is – necessary, now, for people who feel disenfranchised, lost or unheard. It's a damn shame that the therapy world was hijacked, distorted, oversimplified and misused for the wrong purposes, but I'm afraid that that's the fate of every philosophy or practice that comes down the pike, from democracy to existentialism to Christianity.
All we, as therapists, can do is honor the guts and vision of those who developed these amazing concepts, and try to stay true to their use in the right context and for the right people, because self-absorption and the justification of selfishness is never the ultimate outcome of appropriate psychotherapy.
My experience with people has been that, though their 'pendulum' might swing towards selfishness as they work through their problems, it always swings back as they consolidate a true sense of themselves, and ultimately leads to a generosity of spirit and a sharing of the human experience that would have been impossible without the crucible of psychotherapy.
Note: All clinical vignettes herein are significantly altered to protect patient confidentiality and privacy.