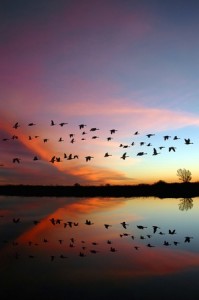 I am standing on the edge of the water,
And I am watching the wild birds fill the sky.
And I am longing to be lifted up among them,
I am not dying – I'm getting ready to fly.
— Ready to Fly, by Calaveras*
*Check this song out on the link before you go on. No really – go listen. I'll wait.
(Dum de dum de dum, la la la, I'm waiting for this amazing, perceptive reader to listen to the song and get back to me, because he/she knows I really meant it when I said "Listen to the song first".)
Oh, you're back, having listened to the song! Wow – you're so amazing and perceptive. Oh, I already said that? Well, that's okay – it never hurts to put some frosting on the cake!
Good – now that we're on the same wavelength.
Today we're going to talk about the deep, dark secret of Western civilization:
Life Ends
(Shhhh, don't tell! Of course, we can talk about it here, albeit in whispers, because everything that happens on a therapy blog is confidential, right?)
So, yes it's true – we actually do die at some point. If we last that long, we get old, then older, and then, yep, we up and die. Yes, ALL of us, sport! We don't know when, we don't know how: it's like Russian roulette, but without Zero or Double Zero. Of course, we can "take care of ourselves" in the hopes that this will prolong our lives and provide 'quality of life' for endless years. Kind of like Robert Mitchum said in Out of the Past when his girlfriend was playing roulette and losing, big:
Mitchum: That isn't the way to play it.
Girlfriend: Why not?
Mitchum: Because it isn't the way to win.
Girlfriend: Is there a way to win?
Mitchum: Well, there's a way to lose more slowly.
So yeah, sport, you can exercise, you can eat right, you can have so many air bags in your car it would take off if you had an accident. You can ingest vitamins and supplements and Echinacea and ayurvedic balms and homeopathic remedies. You can stand on your head, gobble brewer's yeast, do puzzles to keep your brain sharp, meditate to achieve mindfulness, and guzzle goji berry juice, acai berry juice and phosphatidylserine elixir, but in the end, there's still, well,  the end.
There are plenty of books about it, from Living Your Dying,  to the Stephen Levine books, to The Denial of Death (not for the faint of heart, that one) but all the reading in the world won't change the fact that, in the final analysis, we're all taking that long walk on that short plank, and there are no reprieves, last-minute pardons, or stays of execution for the likes of us.
So, all of us are busy interviewing old people all the time, to find out how to do it, to get tips on what aging is like, and to educate ourselves precisely on just what it is to have everyone you know gone, to have no one left who remembers you or your past, to feel all alone in the world, to hurt physically and lose it mentally, right? We just sit 'em down and pick their brains endlessly about adjusting to times they don't understand, about not having what they know valued anymore, and about how to deal with the fact that everyone's  younger than them – right?
What do you mean, No? You mean we're NOT all studying and talking to old people all the time? Are you telling me we just barrel into old age — the hardest thing most of us will ever do – on a wing and a prayer?
What's wrong with this picture? Can anyone explain this stuff to me?
Okay, let's pretend you're an average American young person and I'm teaching your anthropology class, thusly:
________________________________________________________________________
Me: You – you, sir, the one in the back with the shaved head and the nose ring.
Nose Ring: Well, old people are, like, you know – weird and creepy.
Me: What do you mean, weird and creepy?
N.R.: Well, they look kind of gross, and besides, they're all totally out of it.
Me: Out of what?
N.R.: Look, they don't know anything, man: music, movies, tech, anything that's, you know, like, actually happening.
Me: Yes, but they had their version of all those things, right? I mean, they had their music, their movies, even their tech: they've been there.
N.R.: Been where?
Me: Life. They've been there. They could be a kind of, you know, GPS, to life, to aging, to survival, for the rest of us: pathfinders.
N.R.: That still doesn't deal with the wrinkles, the sagging, all the stuff that's gross and basically, you know, depressing.
Me: Why is it depressing? Because their faces are a road map of where we're all heading?
N.R.: Hmm, maybe. Dude, I just don't want to see or be around that shit, is all I know.
Me: (Looking at the whole group) Is this true? Does he speak for all of you?
Group: (Hanging heads, looking down, pawing the ground.)
Me: Do I take your silence to mean Yes?
Group: (Hanging heads, looking down, pawing the ground, muttering.)
Me: So, let's review: For the biggest Final any of us is ever going to take, we are not going to study with the only people who could possibly teach us how to prepare for it, how to take it, how to do well on it, how to learn from it, or how to make it be the best it can be – is that what you're telling me?
Group: (Shuffling of feet)  Woman in red head scarf raises her hand.
Me: Yes?
Red Scarf: Dr B – just because they're old, that doesn't mean they know anything.
Dude In Back: (Waving hand in air) Are we allowed to use our vape sticks in here?
Me: Is that what's important? Really?
DIB: Totally.
Me: Are you using it to quit smoking?
DIB: Duh – yeah, dude. Well, you know, sorta.
Me: Well then, how about learning how to quit smoking, from a generation that smoked all the time?
DIB: Like Mad Men?
Me: Yeah, but for real, not some fake sissy American Spirit herbal cigarettes on a TV show.
DIB: That's a thought. But they never vaped, dude.
Me: No – they had a little trick they used: it was called Cold Turkey. And if they could quit that way, and you can't even quit with the fabulous vape stick, maybe they could teach you some things.
Red Scarf: Excuse me – I was trying to say something.
Me: Oh, I'm sorry – sometimes even the Therapy Blogger makes mistakes. Go on, Red.
RS: I was saying that just because they're old, it doesn't mean they know any more than we do.
Me: That's true – they don't, necessarily, but just because they're old, they have at least a pretty good chance of knowing more than you do, wouldn't you say? Think of it this way: wouldn't you hope, and expect, that you'd know more at 75 than you do now, at 20-something? And if you were 75,  would you want all you've been through, all your knowledge, just discarded because you're old? I mean, we now have laws about elder abuse, but do you notice no one ever talks about elder use?
RS: Well, what do they have to teach us? What it used to be like? What good's that do us, now?
Me: You think life was just invented in the last twenty years?
DIB: (Waving hand in air) Excuse me – my vape stick won't draw. Can I be excused to rewind my coil?
Me: I give up – class dismissed. Assignment for next week: five hundred words on what you would ask if you  put on a Hazmat suit, and actually talked to an old person, face-to-face.
DIB: I'm an artist – do I have to use words? Can I use, like, sketches and drawings and shit?
Me: Listen, Picasso, you can take that vape stick and stick it . . .
RS: Dr. B – please! Don't forget, you're the teacher!
Me: Oh, thank you, Red, it almost slipped my mind there for a moment. If a teacher falls in the woods and no one learns anything, is he still a teacher?
RS: Well, you're trying to teach us to talk to old people, right? Well, you're old and we're talking to you, aren't we?
Me: (Sigh) Didn't I hear somebody say "Class Dismissed"?
____________________________________________________________
Well, there you have it: we're all on the bumpy road to Old Age, but nobody wants to do any personal research on it, like we would for any other form of endeavor. My god, if we buy a car, a dishwasher, or even a new set of tires, we do endless study on it, we talk to people, we read reviews and we obsess for weeks before making a decision. But you don't see anyone knocking on the doors of retirement homes, or seeking informational interviews with the 'inmates'. There are no unpaid internships with elders, there are no "Aging Gracefully" classes being offered at junior colleges, there are no bestsellers: How to Age Like You Like It, or The Years Are My Best Friend, or Doddering Your Way to Wisdom and Joy. We treat aging, and therefore death, like it was the plague, like even being around old people might be catching, like cooties. And yet we analyze, research, categorize, and poke our noses into everything else that goes on in life. Why not death?
Because we're scared – and we're not even subtle about it:
Death?
I don't want to talk about it.
Aging?
Call my attorney.
Senility? Forgetfulness? Loss of sight, hearing, balance, memory?
Don't call us, we'll (not) call you!
Sexual decline? Hair in your ears?  Shaky hands? Having to move out of your own house, to be "put in a home", where you have the honor of living in sterile segregation from the rest of society – for your own good, of course?
Take a number – a high number.
Reminds me of Casey Stengel, the former manager of the New York Yankees, who, after many years of unparalleled success, and multiple World Series championships, was unceremoniously dumped by management, ostensibly for being too old. His response?
"I'll never make the mistake of being 70 again."
Our obsession with youth, our denial of aging, of death, our trying to thwart the years, to slather ourselves with potions to stay the hands of time – these things aren't just minor societal quirks; they are a rejection of a part of ourselves, of something that all "flesh is heir to", that should be a mark of dignity, an 'honorable estate'. I've always thought (yes, even when I was a kid) that there is nothing more impressive than a man or woman who has come through the many years intact, who still finds good reason to get up every morning, who still believes in things, takes joy in things, finds things to appreciate, and at long last, has come to terms with, and maybe even found beauty in, our finitude, our limitations, and our imperfections.
This is something to be proud of, just as a couple who has been there for each other through the long seasons of life, for forty, fifty, sixty years – has something to be proud of, for the rest of us to honor, to learn from, to study, to revere. It's easy to feel hopeful and full of yourself, to feel possibility is unlimited, to rub shoulders with immortality, at 25. But to feel hopeful at 80, to respect yourself, to look in the mirror and see the good, strong years reflected back – that is a big deal. To be an older couple who still loves one another, still laughs together, and cries together, and has found out what it really means to love another person deeply, 50 years after the crush is over – now, that is a big deal.
I mean, we've all memorized the Five Stages of Grief, right? What stages do we go through when we are confronted with something new, something hard, that we can't deal with? : Denial, Anger, Bargaining, Depression, then Acceptance. Well, folks, as a society, as far as aging and death, we're all, embarrassingly, still in kindergarten: Stage One – Denial. Like the old joke about bringing a knife to a gunfight: in the marathon of life, we're trying to run the 100 yard dash. Then we're shocked, shocked, when we get to the last third of the race and find ourselves exhausted and helpless: of course we are – we only trained for the 100! There are millions of older people out there who are at the Acceptance stage: why don't we ask them how they got there?
But no – our idea of 'researching' the aging process is to ask some old guy,
"So what's your secret?"
And what answer do we want back? Something that takes work, or maturity, or time? Hell no: we want to hear,
"Kale," or "Raw honey," or "Bee propolis." Something easy and quick, that we can take, or swallow, or toss down without addressing anything more than two inches, or two years, in front of our own noses.
So, let us all take a vow to prepare ourselves for aging, rather than just clinging desperately to youth, to open our minds, just a little bit, to older people, to listen to them and not dismiss everything they have gone through, everything they have to offer. Let us try and envision what it would be to welcome old age, to pack away, carefully, all the memories and lessons of our youth, but to ALSO have respect and veneration for those things that it takes long years to anneal, to harden, to forge into something beautiful, but beautiful in a new way, not physically, but spiritually.
Let us all face our older lives with grace and dignity, so that, when it is our turn to go, we can smile and say,
I am not dying – I'm getting ready to fly.
Note: All clinical vignettes herein are significantly altered to protect patient confidentiality and privacy.