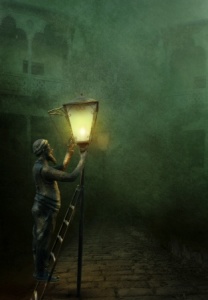 The Lamplighter is one of Robert Louis Stevenson's most famous, and most endearing, poems, from his classic, A Child's Garden of Verses. Stevenson was a sickly child, 'banished' to his room, alone, for long stretches of time, away from the society of his peers.
But, here – read it first, and then we'll talk some more:
                         The Lamplighter

My tea is nearly ready and the sun has left the sky;

It's time to take the window to see Leerie going by;

For every night at teatime and before you take your seat,

With lantern and with ladder he comes posting up the street.

Now Tom would be a driver and Maria go to sea,

And my papa's a banker and as rich as he can be;

But I, when I am stronger and can choose what I'm to do,

O Leerie, I'll go round at night and light the lamps with you!

For we are very lucky, with a lamp before the door,

And Leerie stops to light it as he lights so many more;

And O! before you hurry by with ladder and with light;

O Leerie, see a little child and nod to him to-night!
Lovely, isn't it? And haunting. You can just picture the young Stevenson, poet and literateur-to-be, the scope of his world reduced to his bedroom and the street outside his window, the endless hours marked by the regular cadence of activity on the street, the coming of darkness, and then, finally, Leerie's nightly rounds.
Mary Shelley gave her famous novel, Frankenstein, the subtitle A Modern Prometheus, in honor of the godlike miracle of vivification that Dr. Frankenstein performed with lightning. But for the small Stevenson, Leerie must have seemed a modern Prometheus as well, bringing flame, as he did, to the darkened streets of Edinburgh on a nightly basis, magically replacing the foggy murk outside his bedroom window with the warm glow of the flickering streetlight.
And little Robert lay there wondering, probably, if he would ever again leave his room, and maybe, too, about those things a child should never have to wonder about: permanent infirmity, continued isolation, and possibly, death.
What do you do in that kind of situation? You make, by necessity, a 'world' of your small world. You watch, and wait, for the rhythmic, the predictable happenings that mark the tedious hours, happenings that assume enormous importance. So much importance that even a (hoped-for) momentary nod from a lamplighter becomes a signal daily event, a blessed pinprick of light in the vast darkness of a child's loneliness.
Stevenson even immortalized his sickroom 'world' in this poem:
When I was sick and lay a-bed,

I had two pillows at my head,

And all my toys beside me lay,

To keep me happy all the day.

And sometimes for an hour or so

I watched my leaden soldiers go,

With different uniforms and drills,

Among the bed-clothes, through the hills;

And sometimes sent my ships in fleets

All up and down among the sheets;

Or brought my trees and houses out,

And planted cities all about.

I was the giant great and still

That sits upon the pillow-hill,

And sees before him, dale and plain,

The pleasant land of counterpane.
Is this a boy who is content to lie in bed, a passive observer of life? Is it even possible to read this verse and miss the longing embodied in the references to the active, daring life of soldiers and sailors, or the poignant irony of Stevenson, in enforced bed rest, calling himself "the giant"?
Growing up, attending various schools, he was eager, desperate, to push his way out of the narrow confines of not only the sickbed, but the boy's world of Edinburgh that circumscribed his life. He wanted 'out,' but then again, he also still prized, and needed, the "pleasant land of counterpane" where he had once lived. Like a prisoner of war who, once released, finds the 'real world' too fast, too loud, too demanding, too changed, Robert still clung to the old, the small, the familiar.
But is it possible to hold on to the old, when the world is changing so fast?
Stevenson certainly hoped to: here is an excerpt from his essay, A Plea For Gas Lamps, which he wrote years later, clearly influenced by his continued affection for the fast-fading age of gas lamps. In this passage, he compares the 'new' electric lights with his beloved gas:
The word ELECTRICITY now sounds the note of danger. Such a light as this should shine only on murders and public crime, or along the corridors of lunatic asylums, a horror to heighten horror. To look at it only once is to fall in love with gas, which gives a warm domestic radiance fit to eat by. Mankind, you might have thought, might have remained content with what Prometheus stole for them and not gone fishing the profound heaven with kites to catch and domesticate the wildfire of the storm . . . but where soft joys prevail, where people are convoked to pleasure and the philosopher looks on smiling and silent, where love and laughter and deifying wine abound, there, at least, let the old, mild lustre shine upon the ways of man.
So young Robert found ways to prize and treasure his 'small world,' but at the same time, I think The Lamplighter shows you that, for Stevenson, watching wasn't enough: He wanted the power of the lamplighter, too! He wanted to make a difference. He, too, wanted to 'bring the light.'
But how was he supposed to bridge the huge gap between being a sickly child, confined to his bed, and becoming a force in the adult world, like Leerie?
He wanted to be somebody!
And not just any somebody: his own somebody!
He didn't 'just' want to go into the family business, as he was expected to, although, ironically enough, the family business was 'bringing the light': Robert's father, and other close relatives, were noted lighthouse designers. No, Robert, though limited and betrayed by his frail body, imagined something grander than designing lighthouses. He imagined himself bestriding the 'big world' in seven-league boots, running away from his real life as a frail boy in his cloistered bedroom.
It seems clear that young Robert felt the soul of an adventurer stirring within himself, but also that he knew, from early on, that he didn't have the body of one: an identity out of sync with itself, two warring camps, each insisting on its own way.
But how does one resolve this internal tug of war – something that is far more common than you might imagine? Well, I could give lots of examples from my practice, but let's use Stevenson as an example. For Robert, an artistic type with a literary bent, one of the ways is to work on the issues by using fantasy.
Is this the internal tug of war that haunted Stevenson? Forced into a small world by childhood illness, trying to make something worthwhile, something memorable, something meaningful, out of his limited resources? Then, as an adult, expanding his world hugely, almost 'counter-phobically,' by taking trips – no, not trips: voyages, that were certainly uncharacteristic of people of his time, traveling the biggest of the Big World, with seven-league boots. But was this far-flung travel, this enormous striding of the bigness of the world, the 'corrective' that he sought, to his childhood confinement? And finally, in writing of his travels, did he become a symbolic Leerie, bringing that larger, far-flung world to 'light' for his readers, illuminating them with tales of his voyages and adventures?
Hear his 'protest' of following in the family footsteps, in this poem:
Say not of me that weakly I declined
The labours of my sires, and fled the sea,
The towers we founded and the lamps we lit,
To play at home with paper like a child.
Does the phrase, "like a child" jump out at you, like it does me?
I hear, in this poem,
"I'm no f________child! I'm not weak!"
He wants us to know that, although he didn't do the 'right thing' and follow his father in the lighthouse business, he is not a nothing, not a failure.
There was an enormous displacement, and discontinuity, in scope, that his life spanned: shut-in, to world-wide traveler. Was this the split, the disjunction, that so haunted him, the basis of Dr. Jekyll and Mr. Hyde? That enormous gap between the small world and the big world, that lay inside him, yawning and unbridgeable? Did he wish that it were possible to bridge that gap by taking a magic potion?
Did he say to himself, as many, many of my patients have said to me,
Can't you just knock me out and give me something, so I wake up changed?
Well, that is what Dr. Jekyll did, isn't it? The fantasy of getting to the 'other side' just by taking something – kind of an alchemy by ingestion. Well, what were Stevenson's alternatives? There was no psychotherapy, no real way that personal help from another person could bridge that gap. So what could he do? The well-known 'Geographic Cure' was an obvious attempt to get there. This tremendous yearning is even on display, very clearly, in his most famous writings: what is the plot of Treasure Island, after all? A young boy is basically 'transported,' willy-nilly, into a pirate's life! He (as the character Jack Hawkins) goes from the Small World of an ordinary boy of those times, into the Big World of swashbuckling adventurers, from the 'good boy' world of young Robert Stevenson, to the 'bad boy' realm of a buccaneer!
But let's go back to The Lamplighter for a moment, to the time before this child, Stevenson, lost his innocence, and when those yearnings were right out in the open, for us to see. What is he really saying in this poem? That he is lonely, clearly. That the nightly coming of the lamplighter is a boon to him, and something to hold on to, to look forward to, clearly. But there is more here: he is saying to the lamplighter, isn't he:
Please be with me.

Please notice me.

Let me 'apprentice' with you, the art of lamplighting (and therefore, be my bridge to the big world)

Take me with you!
And, maybe even,
Get me out of here!
And that's what we all want, isn't it? A way to magically be transported (with care) to the adult world? The irony of psychotherapy is that, while most psychologically 'healthy' people already know, and assume, that they have to make use of other people in order to "get there from here," most psychotherapy patients have learned, somewhere along the line, that it is THEY who are 'deficient,' that somehow, they just have to get it together, try harder, snap out of it, concentrate, stop fooling around, face facts, stop dreaming, get with the program, and BUCK UP!
What they don't know is that it takes HELP from other people, to do this. That's why they come in (reluctantly) to therapy and say, "Tell me what to do," not "Help me." They want explanations, shortcuts, techniques, or maybe at worst, pills, to 'get there.'
What they don't want is an actual relationship (ick!) with another person (eeewww!).
Why?
Because, as we all know (All together now, big breath – now hit it):
That's WEAK!!
There now, don't you feel better, getting it all out?
Cue the marching girls! Cue the brass band! Cue Stars and Stripes Forever! Because independence is the American Way! Not needing is the American Way! Flying solo is the American Way! Doing it on your own, by your lonesome!
And needing? Shoot – that's just .  . . just . . . well, it's just plain Communism! Weak-kneed, bleeding heart, sob sister, boo hoo, poor me, pity party, oh-dearie-me-I've-got-the-vapors Communism!
And here's the ultimate irony: for all our jingoistic, teeth-gnashing, fire-breathing, gun-toting, saber-rattling defiance of England, the 'Mother Country' we broke away from; for all our proclamations, declarations and disputations, we (like all rebellious children) ended up a hell of a lot like our 'parent' after all, in the things that matter.
We just didn't notice.
Oops.
What is it you see all day long, from therapy patients who have 'sworn' to be totally different from their parents, and from patients who divorce one person, and swear they'll never, ever, hook up with anyone 'like that' again?
Exactly: the rebellious son of a cantankerous, controlling father takes up a defiantly 'alternative' way of life, grows his hair long, wears outlandish clothes, and then proceeds to become a cantankerous, controlling 'alternative' man.
And the woman who will never, ever, marry a man like her short, long-haired, uninvolved alcoholic plumber ex-husband, ends up marrying a tall, short-haired, uninvolved alcoholic stock broker.
And America, the country that shouted long and loud that it wanting to be nothing – nothing at all – like its stiff-upper-lip, don't-talk-about-your-problems, keep-it-private, act-like-everything-is-okay-even-if-it-kills-you, look-fate-in-the-eye-and-spit, don't-let-'em-see-you-sweat 'Mother' England, ended up . . .
Need I go on?
Busted!
So, what can we learn from the life and works of Robert Louis Stevenson, that we can put to use here, on 'our side of the pond'? Well, it's not very sexy, but is it too much to suggest that running away (i.e from the 'Hyde' parts of ourselves, and from our lives) doesn't work? That, while we are fascinated (understandably) by Treasure Island as an adventure story, it's not really much of a model for life? After all, we Americans have our own Treasure Island, don't we? I mean, isn't 'our' own American archetype, Huckleberry Finn, really just Treasure Island on the Mississippi?
Running away makes a compelling story line for a book, but it's the relationships, not the geography, that make these books, and our lives, truly memorable and rewarding.
Because it's not running away that really lights our lamps – it's running TO.
And, when Stevenson died, in far off Samoa ("I'm NOT home in bed!") he requested his poem, Requiem, to be engraved on his tombstone:
Under the wide and starry sky,
Dig the grave and let me lie.
Glad did I live and gladly die,
And I laid me down with a will.
This be the verse you grave for me:
Here he lies where he longed to be;
Home is the sailor, home from sea,
And the hunter home from the hill.
And what does this scream? "I'm a hunter; I'm a sailor; I traveled far and wide. I'm not a little boy, lying in bed at home: I'm a man!" It not only sounds more like an epitaph for John Wayne, it actually was recited by John Wayne in a war film, in an impromptu memorial for a lost Navy comrade. But it's clearly what Stevenson wished for himself –  the more empowered, more uninhibited man he felt stirring inside himself, and that he wished he could embody, or at least unleash at will (paging Mr. Hyde!).
But you can't just jump out and 'be somebody else' – it takes a foundation, a continuity of self, to actually be the man Stevenson envisioned himself to be. Fortunately, these days we have psychotherapy and other means of obtaining help from others, to assist us along that trail from child to adult, and from chronological adult to true adulthood. So let's really rebel from England, and be a people that embrace not only independence but all parts of ourselves, and our fellow human beings as well.
Because while in books you can be transformed magically from a child in a sickbed to a cabin boy on a pirate ship, in real life it takes hard work and help to manifest your inner buccaneer.
So set sail on your own bold voyage, get all the help you need from the wise and the adventurous, and raise high your own Jolly Roger. Yo ho!
Note: All clinical vignettes herein are significantly altered to protect patient confidentiality and privacy.