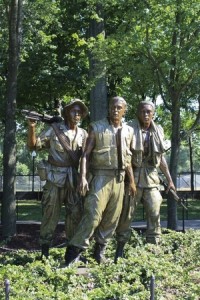 (Note: Please first read The Goner, Part I: Whistling Through the Grass)
The summer weeks drifted by in Asheville: group therapy, botanical rounds, the cockroach and raccoon wars, loving a neighbor's puppy named Shane, doing individual therapy sessions, hopes borne out with some patients, hopes dashed with others, teaching my wife how to drive a stickshift in the Blue Ridge Mountains, claiming my gifts, accepting my limitations, crossing back and forth through Beaucatcher Tunnel, work and home, heat and humidity, summer rain, lessons, lessons, under the hot Southern sun . . .
A new patient arrived: Victor. A Vietnam vet. His diagnosis: Depression. I don't know why, but I gravitated to him. Make no mistake – all patients are not treated the same. Not that all don't get the benefit of everything the program has to offer, but sometimes you take a special liking to, or a special interest in, a particular one, and spend "more time than you're getting paid for," as a supervisor once put it, in his care and treatment. Such was the case with Victor.
He was a big, likable guy, a heavyset bear of a man with a deep, resonant voice that you noticed right away. Paul Robeson's voice came to mind – and William Warfield, maybe Billy Eckstine, but for obvious reasons I wouldn't have made any of those particular comparisons to Victor's face. White guys from Mississippi don't like that.
I scheduled some individual sessions with him, and we talked of all kinds of things: the wife he still loved (she had left him for another man while he was in 'Nam), his lonely childhood (an only child of a drunken mother and a father who was on the road all the time), his own drunkenness and addiction to pills (he had kicked both years before, "on his own"), and most devastating of all, his loss of the guys he called 'the only family I've ever known' – the platoon that was annihilated by the Viet Cong, all but him.
Victor was the first person I ever heard say, "I wish I had died instead of them," and really mean it. He explained, "The dead get to rest. I have to face hell for the rest of my life, because aloneness, and life without The Goners, is hell." That's what he called them – The Goners.
I thought about that, and thought I could understand it, a little. I had never suffered a significant loss of a person in my life, but I could see what he meant about the dead 'getting the best of the deal', in that their struggles were over, while the living had to go on and face life without their loved, and lost, ones.
But what about that peculiar phrase, The Goners? For some reason, I felt I needed to file that question away for later.
In the meantime, I tried to talk to him about the things he did have to live for.
What about other women?
He would shake his head sadly, and say, "For me, Joanie was the beginning and the end."
Subject closed.
New friends?
"What's the point? You let people matter, then you just lose them, and it's worse than never having them in the first place."
Subject closed.
Work?
"I'm an electrician. I do my job. I go home. What else is there to say?"
Another one bites the dust.
Finally, I mentioned his voice.
"You've got quite a voice. Ever done any singing?"
That got a small smile. "Singing? Sure – when I was a kid, in church. I was a soprano. Then, my voice changed."
"It sure did."
He really smiled, for the first time ever. "Now I'm a bass – like Daddy." He grinned, proudly.
Hmmm – were we finally onto something? "Daddy?"
"Yeah, you know – my father."
I smiled, "Yeah – even a Yankee knows what 'Daddy' means, Vic. It's just that I never heard you talk about anyone before – anyone other than Joanie, or The Goners – with any feeling. I guess your Dad meant a lot to you."
He pursed his lips in thought. "He meant everything to me." He paused, his eyes moving as he searched his past. "He used to sing."
"To you?"
"He sang all the time – in church, everywhere." He paused, his eyes lighting up, head nodding proudly.  "He used to blow out speakers, you know."
"What do you mean?"
"Sure – a really powerful, deep bass can do that, you know."
"No – I had no idea."
He was quiet a moment. "But he also sang, special – to me."
"How do you mean – special?"
"At night, in my room."
"Like, bedtime songs – lullabies?"
"Not lullabies. Just anything: popular songs, hymns, gospel – you know, church."
I smiled. "Yeah, I know gospel has something to do with church." I paused, considering. "Would you sing for me?"
He did a double-take. "What – right here?"
"Yes – right here."
He looked at the closed door. "Is that okay?"
I did my best Edward G. Robinson. "If they come to arrest us, I'll take the rap, see?"
He looked down, clearing his throat. "Well, I don't really sing anymore. It's kinda like, when Daddy died . . ."
"The songs went with him?"
"Um hmm."
"So, you don't really feel entitled to do it on your own?"
"I don't know about that – I just haven't done it."
"Would you do it for me? I'd be honored."
He looked around again, like we were up to something illicit. "What do you want to hear?"
I shrugged. "I don't know – maybe some of that hymn and gospel stuff you were talking about?"
"Like, what hymns?"
"I have no idea – I'm just a Jew-boy from California."
That earned a rumbling laugh. He looked down and cleared his throat again. "Okay, then"
He began, timidly,
Shall we gather at the river,
Where bright angel feet have trod,
With its crystal tide forever,
Flowing by the throne of God?
Now, he really gave it his all – his voice molten gold:
Yes, we'll gather at the river,
The beautiful, the beautiful river,
Yes, we'll gather at the river,
That flows by the throne of God.
He looked at me. I nodded, "Keep going." He continued through the verses, belting it out, body swaying, his eyes closed, and ended with,
Soon we'll reach the shining river,
Soon our pilgrimage will cease;
Soon our happy hearts will quiver,
With the melody of peace.

Yes, we'll gather at the river,
The beautiful, the beautiful river,
Yes, we'll gather at the river,
That flows by the throne of God.
By god, I almost converted, right there on the spot!
There was a knock at the door.
Victor flinched.
I said, "Yes? Come on in."
The door opened, and two nurses poked their heads through a crack in the door, timidly, one head on top of the other. "Is everything alright in here?"
I nodded. "Everything is great in here." I looked at Victor, then back at the nurses, asking them, "What did you think?"
The one on the bottom had her hand clapped over her mouth. They both had tears in their eyes. The one on top said, "It was just . . . just so beautiful."
Victor looked alive for the first time since I had known him. Something had happened – it doesn't matter what, or why, or how, only that it happened. A spark of life had been struck. Now it was my job to keep that spark alive.
I continued to meet with him, and, while he was still depressed, it seemed he had turned a corner and stepped out onto the street of life. There was only one thing I still wanted to know, and I waited till our last meeting to ask him. Maybe he'd be willing to tell me now.
"I know you don't like to talk about the War, but could I just ask you one thing?"
He drew in a breath, hesitating. He still didn't want to go 'there', but he said, "Okay – what is it?"
I had earned my one question. "Why do you call your platoon The Goners?"
He smiled. "Oh, is that all? That one's easy." His eyes did that moving-back-and-forth thing again, searching the blackboard of time. "When I was a kid, and my Daddy came home, which wasn't often, he used to play soldier with me all the time. And whenever I would 'kill' him, he would clutch his hand to his heart, spin around, say, 'I'm a goner', then fall down.
"So, every time he had to leave home again, it became a regular thing that I'd say to him, 'Guess you're a goner, huh?' And he'd say, 'Yep – I'm a goner, boy.' Somehow, it made it easier.
"So, when the guys were all killed, I just took to calling them The Goners – like, they were with Daddy, somehow." He looked at me, but not really at me. "I guess it makes it easier."
I nodded, and stuck out my hand. "Thank you – I appreciate it. I think I understand, now."
Little did I know that, thirty years later, I would 'borrow' his father, and the platoon, to make it easier for myself when Brett died.
Oh, before I get back to Brett, there's one more thing about Asheville, and it's in the nature of an 'amends'. While we lived in Asheville, the older, nice guy, Bob, whom I mentioned earlier, was wonderful to us. He 'had us over' to his lovely house for dinner, did everything possible to make me feel welcome, talked with me patiently about my doubts and questions at work, and even laughed at my dumb jokes sometimes.
And yet, there was something sad about him, something very human. Maybe he was a self-questioner, a self-doubter, like me? I don't know. I didn't know, then, that 'old guys' were human, too, could need companionship, too, could be lonely, could doubt themselves. I just know that, on my last day at work, on my way out I glibly said to him,
"I'll be in touch."
He immediately replied,
"No, you won't."
Not like an accusation, or anything of the sort – just straightforwardly, like a statement of hard-won truth. It took me momentarily off guard. People aren't usually that direct, or that honest. I think I shrugged it off at the time, and continued my merry way down the hall.
So, for the record, and to my shame, I just want to say that, Bob, you were right. I was a boy in a hurry – to get my Ph.D., to grow up, to get paid, to earn respect, to 'make it'. I so wish that Botanical Rounds, that your generosity toward me, that the South, had taught me to slow down and let my heart put down roots in life, sometimes. I know it now, but I didn't, then.
And I'm sorry – I'm the one who missed out on the privilege of a continued relationship with you, Bob – I'm the loser. And now that I'm an old guy, I know that age has nothing to do with it: I think you recognized in me a fellow traveler, and wanted to know me longer than my three-month 'hitch' in Asheville. Maybe at the time I couldn't imagine an older guy actually wanting to know me, or finding genuine companionship with me – I didn't think I had that much to offer.
But now that I'm older than you were then, I see that when a soul connects with another soul – age, or race, or gender, or background doesn't matter much at all; sure, maybe those superficial similarities make it easier, but if the actual connection isn't there, those things don't make up for it. The connection is the precious part – and I let a true connection fall by the wayside when I failed to follow up on our friendship.
Maybe somebody reading this now will learn and realize that truth, and think twice about letting a special connection lapse.
That's all I can offer you now, Bob, but I am offering it, with all my heart.
(Next: The Goner, Part III: Mission Accomplished)
Note: All clinical vignettes herein are significantly altered to protect patient confidentiality and privacy.