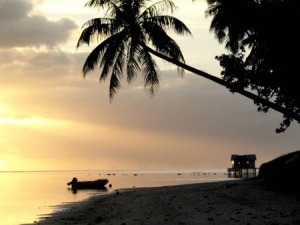 The Big Day had arrived: the day my mother and sister were off to Camp Osito for the week, a Girl Scout camp where god knows what was supposed to happen: Mother-daughter bonding? Being steeped in Girl Scout lore? A week of someone else cooking for you? Some kind of proto-Girl Power? I didn't know then, or now, and honestly, didn't really care.
Why?
Because what it meant for me was only one thing:
A Week With The Old Man – just me and him.
Yeah, yeah, I wasn't kidding myself: the part of the deal that involved me was the lop-end of all the planning, not the point of it. The point was for my mother and sister to go off and do their Girl Scout thing. The part that involved me was a left-over – a left-over that, if he thought about it at all, probably had the Old Man muttering to himself late at night, "Son of a bitch – what the hell am I supposed to do with a damn kid for a whole week?"
You see, we didn't do things 'together,' he and I. We did things as a family, mostly impelled by my mother, and mostly 'educational' outings: The County Arboretum, Descanso Gardens, maybe a Mission or two, Griffith Park Observatory, and like that.
The Zoo?
Declassé.
Disneyland?
Horrors – mindless idiocy, for the great unwashed.
Education: that was her big thing. One day, an oval metal trashcan suddenly appeared in my room, with the pennants of Ivy League universities plastered all over it. Uh yeah, I got the hint. We watched Omnibus on Sundays (yep, the one with Alistair Cookie); the Leonard Bernstein specials for children ("This is an oboe, kid"); College Bowl ("For twenty points, what color is the Dartmouth pennant on Gregg Bernstein's trashcan?"); The Twentieth Century, with Walter Cronkite; You Are There ("Hurry – they're doing a recreation of the Dred Scott case!").
Well, you get the idea.
I know I did.
And where was my Dad in all this? Going along, mostly. My mother was "in charge of the kids." Once, years later, I asked the Old Man why he wasn't more involved in raising us – in knowing us. His answer:
"All that was your mother's department." (Pause) "She used to be a teacher, ya know."
Gee, how flattering to be called "all that." And as for my mom, the teacher, I'm not sure she ever really made a distinction between home-schooling and raising kids. They were pretty much one and the same in her book.
Anyway, back to The Big Day, and The Big Week. Wow, I thought to myself – a whole week, alone with the Old Man, maybe seeing the parts of him that he had to keep under wraps around Mom, maybe learning a few tricks of the trade of being a guy, maybe getting a few risque stories out of him, some inside stuff about old girlfriends, a wild tale or two – you know, finding out what he would do if he wasn't in Family Man mode all the time. I mean, what did I know? Maybe he'd always wanted to be an acrobat, or an electrician, or a traveling salesman. I mean, who was this guy, my Dad?
I did know a few stories about the 'old' Old Man: I knew that he used to be a reporter for a news service, assigned to the sheriff's office (that would be Sheriff Biscaluiz, if you're an L.A. type), that he used to hang around City Hall a lot with other reporters, presumably waiting in a scrum for murder cases to break – and that was in the days when being a reporter was a cool and romantic thing (just watch movies from the 30's or 40's). I knew the one self-deprecating 'reporter' story he often repeated, usually after a few drinks: when he was at the courthouse, covering the infamous Sleepy Lagoon trial, he spied Anthony Quinn (who was there to support the Mexican-American defendants' rights), then confidently walked up to him and said, "Hello, Mr. Romero." Of course, being the Old Man, he also said that he and 'Tony' ended up having a few pops in a local bar together, and laughing the afternoon away.
Hmm, let's see, what else? I did know that he used to work in a factory that made freeway signs. I did know that he bused tables at a sorority house to put himself through UCLA (wow – major possibilities for stories there!), and that he saw Jackie Robinson play UCLA football ("That son of a gun would take the damn ball from the quarterback, then go back, back, back, until he had the whole defense back there chasing him, then he would take off like a shot and circle around 'em and race for the goal line all alone!"). And I knew that he used to bus tables at a fancy beach club in Santa Monica, and at the Cocoanut Grove, too, where one day Jack Teagarden heard him fooling around, singing, and told him he could 'make it' if he was willing to do a few things, like move to Chicago and change his name. Neither happened, so there went his chance to be "the next Tony Martin," who, the Old Man informed me, was actually a Jewish kid from "Frisco" named Al Morris, who was married to Cyd Charisse, who Dad always thought was a hottie. Gee, to think I could have had Cyd Charisse for a Mom! I bet she wouldn't have insisted that we watch Omnibus! Oh well . . .
So, I kind of knew Dad 101, but how much more there must have been to learn!
Now, maybe, I was going to find out.
My Mom and sister drove off, to their wonderful adventure. But I was sure it wasn't going to compare to my adventure, right here at home. Father-son stuff. Man stuff. Grown-up stuff. Cool stuff. It was all there waiting for me. Here, away from Mom's pernicious educational influences, we'd be 'batching' it, just the two of us, turned loose to fend for ourselves and strut the high life.
Look out world, here we come!
So, what's the first thing that happens, bright and early the very next morning? I get a "son-of-a-bitchin'" (direct quote) eye infection. Oh my god, here we were all set to kick over the traces and set the world on its ear, and I, like a damn punk kid, have to come down with a son-of-a-bitchin' eye infection! I awoke with my eyelids stuck together, green crud all over the place. It was the first time I'd ever even heard the word 'pus,' and wouldn't you know, on its maiden voyage it picks my eyeballs! Man, I was a mess. It took a couple minutes of warm compresses just to get my eyes open, and even then this miserable green crap was running out of 'em like crazy. Okay – off to the doctor we went, Dad muttering "What the hell?" (his favorite expression) under his breath the whole way. The first act of Life as a Man, with Dad, and here I go all hors de combat on him.
Not a very auspicious beginning to Hell Week!
We picked up some kind of prescription goop at Edwin's Pharmacy, and came home so I could smear it on my face, and lie in state on the living room couch. The Old Man had a way of making even martyrdom sound macho: he took one of his famous white handkerchiefs out of his pocket, dipped it in warm water, and handed it to me with a gruff, "Here, you can go ahead and use this, dammit."
As I lay there like a beached whale, trying not to use my eyes for anything in particular, trying not to groan too much, he paced the room like a caged panther. He didn't need to say, "God damn it to hell – here I am stuck with this kid for a whole week, and now he comes up with this!" for me to know he was thinking it.
I tried to think fast: how could I salvage this thing before it went completely south? I had an idea – something that he would like:
"How about a Mike's pizza?" (Mike's Pizza being where our going-out-for-dinner expeditions fixated for all time, after we had finished our Bob's Big Boy phase. For some reason, I always ordered tamales at Bob's Big Boy, famous for their great hamburgers. What the hell!)
The Old Man turned his face to me, lost in contemplation. "Ah, hell, I don't know – I don't want to drive all the way down there." He had done it: he had successfully transformed my suggestion from something for him, into a favor to me. But ah, I wasn't done yet, because, living so close to the ground, kids pick up a lot of stuff that grown-ups don't have time to notice, such as:
"But Dad, I found out they deliver!"
I had him on the ropes now. There was no way he could get out of this one, without going full-on martyr and either making fried matzoh or opening a can of chili, the only two things he knew how to put on the table. Neither of which could compare to pizza. He cast about for a way out, but he was cooked. All he could manage was a feeble, "You think so?"
"Yeah – I know so." And now the clincher. "We could get those rolls, too – you know, the ones that you like?"
Checkmate!
"Fine – what's the goddam number?"
I quickly got up, found the yellow pages, and pried an eyelid open long enough to blearily make out the digits of my salvation. I played his own game, tottering to the phone and blinking dramatically as I tried to focus on the dial, while croaking, "Want me to call for you?"
He bit. "Nah – nah, I can do it. Gimme that thing."
We were home free. He dialed and waited, skeptically, ready to have them say they didn't deliver, proving that,"What does a kid know anyway?" It didn't happen. He ordered, they delivered, and it was delicious. We were sitting dutifully at the kitchen table, where Mom always insisted we eat, when I played my last card.
"Hey, Dad, I think The Untouchables are on now." (It was his favorite TV show, as a Chicago Prohibition-era boy, especially now that The Honeymooners was off the air.) Haha – butter wouldn't melt in my mouth!
I waited, while he grabbed another roll and chewed on the roll and the idea. Suddenly, he grabbed his plate and his Brew 102 and barked, "Hell – why not? We're on our own, right?"
I grinned, "Right!"
Hell Week had begun!  We had broken free of Mom's orbit. Could buttered popcorn be far behind?
The next few days came as close as I ever came to bonding with the Old Man. As was his wont, he was still playing the martyrdom game, and never quite admitting that he was actually having any fun, but we at least established a companionable 'household' of sorts. He was the kind of guy who had to be the Alpha Male, and that kind of guy, while being a good sport and all, and great company, always remains on some level aloof from, and wary of, other males. I knew he had always considered me a rival for Mom, something which she, in her own weird way, kind of encouraged – much to my regret. The resulting family dynamic was something akin to how a male lion tolerates his own sons for a while, knowing that eventually, they either have to leave or be driven out. So I knew my ultimate 'fate' (i.e. exile) was sealed, no matter what I did, anyway, but the great thing about Hell Week was, Mom wasn't there, so at least for the moment, it was safe for him to hang out with me.
And I think that, at least for those few days, he let down his guard enough to see, maybe for the first and last time, that I was a 'regular guy'. He still kept things moving, though – leery of finding himself stuck in the house and actually having to relate to me, person to person: that was asking too much!
It helped, too, that day by day, my eyes responded to the goop and I could be more of a running mate and less of a caretaken liability. Praise the Lord, we could now develop our own 'family values' and drop the 'education' crap that always hovered over the house like a tornado warning. I think we went to Traveltown, a place for kids in Griffith Park where they had old railroad passenger cars, locomotives you could crawl around in, pulling levers and turning wheels, a fire truck, and even a "Jap Zero" fighter plane from World War II – the kind that made mincemeat of Pearl Harbor. What a wonderful place for a boy to dream, and best of all, you got to touch things! Now, that was my idea of education!
One night we went to see The African Lion, a Disney movie with amazing (for then) and intimate close-ups of lions in the wild, incredible vistas of Africa, and buttered popcorn!
Finally, we were down to our last evening. It had been great, but I think we were both ready to be done with canned spaghetti and fried eggs. After all, even the Darling children could only live with the Lost Boys for so long: eventually, you want your regular life back. But I still had one more item to spring on the Old Man – the one I had been saving for a special time like this. My friends down the street were always going out for dinner to a Polynesian joint down on Ventura Boulevard, called The Luau Lounge. For some reason, I had become obsessed with getting there, somehow, before I died. I pictured a tiki hut, hula girls, spears and shields, luscious ribs smothered in special sauces, roast pig steaming in a deep pit covered with palm leaves, pineapple slices all over the place, and those fancy drinks with the toothpicks stuck in 'em. Wow – heaven!
But getting the Old Man there? A place that was unfamiliar, with 'crazy' food? I mean, shit, it wasn't Bob's Big Boy or Mike's Pizza.
What the hell!
I knew I would only have one shot at it: if I muffed it, well, there would go my chance to do something 'wild and crazy' – it was a cinch my mother would never go for it. Nope, it had to be Dad, and it had to be Now. I don't know what we did that afternoon, but I could tell he was getting impatient about this whole routine, and wanted his wife back. How could I appeal to him? Wait – I had it:
"Dad, what's a Mai Tai?"
"What the hell – you mean those crazy drinks they have in the Islands?"
"Yeah – what is it anyway?"
"Ah hell, I don't know. What're you asking about that stuff for?"
"Oh, I don't know. I just heard the guys saying they had a taste of one at this restaurant – and it was great."
"What the hell – where?"
"Ah, you know – that place down on Ventura. The tropical place. They said their Dad said the drinks are the best thing on the menu."
"Oh yeah?"
I had started the wheels turning: hmm, he could throw back a few under cover of doing something for me. Yeah – that works.
"What – you wanna go there, or what?"
"Sure, Dad – I wanna go there. Would you take me? It is our last night . . ."
He nodded, thoughtfully. "Aw, what the hell. Sure, kid."
Yes! Tropical maidens wouldn't be the only ones being sacrificed tonight: the Old Man was going to sacrifice himself on the altar of Being a Good Father, and it would only be fair to compensate himself with a few strong ones – all in the name of good parenting, of course. However, it wouldn't be any of that "sissy shit" – it would more likely be a 7 and 7 – or three.
Well, we did go to the Luau Lounge – and there were spears and shields, pineapple slices, and ribs dripping with sweet and sour sauce. No hula girls or pigs in pits, but then you can't have everything. I don't even remember what we ordered, but I know it was good. I do remember that we ate with our hands, and that no matter how we wiped them with our white linen napkins, they were still sticky. But I'm not sure the Old Man noticed or cared, as three 7 and 7's had loosened him up to the point where I was half-shushing his story-telling, so that he didn't bother the neighboring diners. I won't say he was three sheets to the wind, but he definitely had a good bit of sail up, and a brisk following breeze.
Finally, a cute tropical waitress brought us some little finger bowls and rolled-up towelettes for our hands, and the check, in a brown leather folder with palm trees embossed all over it. I was just reaching down for my much-needed finger towel with the soap powder sprinkled on it, as the native girl bowed and prepared to leave, when . . .
No, Dad!
The Old Man picked up the little rolled towel and stuck it in his mouth, with a big chomp.
"What the hell!!"
His booming voice bellowed out over the whole restaurant. A little old lady next to us jumped out of her skin, her mouth a frozen 'O', her eyes wide as saucers.
The native serving girl cupped her hand to her mouth and whispered to Dad, "Is towel – use for finger."
You remember the part in Christmas Story, when little Ralphie goes into an other-worldly state of aggression, gets the big bully Scott Farkas on the ground, and beats the hell out of him? And it's fun until Ralphie finally snaps out of it, and everyone looks at Scott Farkas's eyes and starts backing away because they know there's gonna be hell to pay?
Well, that's the way the Old Man's eyes looked.
You don't humiliate the Alpha Male and get away with it.
But I couldn't help myself: I started smiling, then giggling, then laughing out loud. If I was going to get killed, I might as well die happy. Then the Old Man started to smile, and pretty soon he, too, was laughing, "God damn it – I thought it was a blintz or something!"
We laughed and giggled all the way home. Something had happened that could never be taken away from me: for one instant, we were just two guys, hanging out. For one instant, I wasn't a 'rival' for Mom. For one instant, I wasn't the kid who had all the advantages he never had. For one instant, I wasn't the 'over-sensitive' brain that intimidated him. For one instant, I wasn't the kid he never had any idea what to do with.
For one instant, we were just regular guys together.
Of course, by the next morning it was all gone – for good, pretty much. Even when I got older, he never could really hang out with me, because there was always that 'thing' there – that maintenance of Mom's upright world that he felt obligated to, the need to be the guy in charge, the need to be one-up, the need to give and never receive, to be strong and never weak.
Many years later, they drove up from L.A. to visit us in the Bay Area, and he and I ended up going out to eat together. After we finished, the waitress brought the check, and he, as always, reached for it.
I said, "Dad, let me pay this time – you're my guest."
He shook his head and reached. "Nah – I got it."
I said, "Dad – did it ever occur to you that sometimes, by accepting something from me, you could be giving me something – something more important than the dinner tab?"
He seemed startled, flustered.
I went on. "Like that time you tried to eat the finger towel?"
He went blank for a minute, then kind of nodded slowly, confused.
"Dad – you were human, then. Just a regular guy. I was proud of you – and proud to be with you."
He dropped his eyes for a moment. I could see it was too far back to reach, too far from where he was now, all these years later. But something shifted. With a grunt he pushed the little tray with the check on it over to me. "Okay, then – go ahead and pay, if it's important to you."
Was he hurt? Embarrassed? Lost? Or just frustrated? I'll never know – we never talked about 'stuff' with each other. We never really connected. Like he said, Mom was in charge of "all that," though, in truth, she was less connected than him, more remote, more fragile.
I paid the check that night and thought to myself, why can't people just talk to each other?
Why couldn't he ever just say to me, "I never knew what the hell to do with you."
Why couldn't I ever just say to him, "I love you, you big lug – just be yourself."
But for one night, so many years ago, we broke through all that. For one night, I had a Dad. For one night, I was a son. And for one week, we had a good time, and we laughed and laughed.
Why can't we all go out to the Luau Lounge together, make fools of ourselves, then laugh our heads off on the way home?
What the hell.
.
Note: All clinical vignettes herein are significantly altered to protect patient confidentiality and privacy.