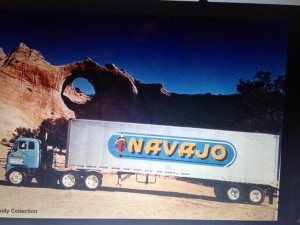 Won't you get hip to this timely tip,
When you make that California trip,
Get your kicks on Route 66…
Route 66, by Bobby Troup (who lived for a time in North Hollywood, one block over from our house, with his wife Julie London).
We drove across the country almost every summer when I was a kid – from Los Angeles to West Virginia and Ohio, where my Mom's relatives lived. When you left the city, things changed some, but by the time you left California, things changed a lot. No, not like nowadays: there were no Red States, no preening redneck patriotism, no strident gun lobbies, no divisive Fox News rhetoric.
There were only country people, and country people then were mostly kind, generous and helpful, and when they weren't, it was because they had things to do: morning-to-night things that 9 to 5 people know nothing about. Running a farm, working the land, watching the weather, and tending to farm animals, you don't live by the clock, don't take regular breaks, don't have paid vacations, and don't often have time to sit and gabble with strangers. You have your hands full trying to get by, survive and maybe put enough aside to see you through the next drought, or flood, or bad market.
So, once we were past the California line, the scenery changed, but the people, mostly, didn't. It was different, but marvelous, and I loved it: to me it was the all the variety that was America, come to life. I was living Walt Whitman's Leaves of Grass, before I had ever heard of Whitman.
The wondrous and frighteningly hot Mojave Desert:
Mirages ("Daddy, I think I see a lake over there!")

Shimmering heat waves

Those funny tubular swamp coolers people used to have on their car windows

The burlap water bags hung in front of radiators

Dipping paper towels in water, then folding them and pressing them to your forehead, just to get a little relief

"Last chance for gas!" signs at the few-and-far-between service stations ("Daddy – what if we run out of gas? Do we have enough water?")

Curios – yes, two-headed snakes, calves, and other misbegotten middle Americana, there for the looking. We didn't have curio stands in North Hollywood!

Navajo Indians, tending their sheep, selling their turquoise jewelry and their angularly beautiful blankets

Q: Mommy, how can they do anything here? It's too hot!

A: They do it anyway.

Q: Well then, why don't they just leave?

A: Where would they go? This is their land.
And for the first time, I began to understand how people could have a fierce connection and loyalty to their 'land', their place on earth – no, not because it was easy, or lush, or perfect, but precisely because it was forbidding, because they had to work so hard to exist there, had to sacrifice and sweat, to make it – to endure. I saw how there was a kind of pride in all these things, a feeling of 'we did it, dammit – and we'll keep doing it' – a feeling we didn't have in North Hollywood, where the hardest thing about the physical environment was the smog burning your lungs at the end of a long summer day playing with your friends. This was long before I (or anyone else) knew of the concept of cognitive dissonance, which explained, 'scientifically', why having to work so hard for something makes it all the more valuable.
And the staggeringly flat endlessness of the Great Plains:
Mile after unimaginable mile of planted crops. Waving wheat, tall corn, soybeans, alfalfa, and all the others I couldn't identify but had been planted by somebody, helped along, fretted over, brought along with infinite care and patience. The big machinery: massive tractors, threshers, cultivators, harvesters, operated by men who sat alone in them, stoically, for hours and hours, quietly doing their jobs under the hot summer sun.
We thought our backyard was enormous, and for North Hollywood, it probably was: the total area behind our house was maybe a hundred yards by thirty, populated by ants, Jerusalem crickets and horned toads when we moved in.
But these 'backyards' were like entire states: mile after mile of flat land, far as the eye could see, all planted with something, all needing tending, all subject to the whims of nature. It gave a kind of scale to things that we didn't have at home – a scale so grand, a space so big, that it made even a boy think about things like life and death, creation, the purpose of things, time, what we are doing here. Or at least it did me, but then of course, I was always The Dreamer – the one who sat in his pajamas and watched the world go by, wondering, always wondering . . .
The middle of nowhere. A train goes by:
Q: Mom, where are those people going?

A: I don't know.

Q: But don't you wonder?

A: No, not really: we're on our vacation now. What they're doing is none of our business.

Q: Are they okay?

A: What do you mean, okay?

Q: Are they moving away from somewhere because they had to? Are they all together, or did they get separated?

A: I'm sure they're fine – and besides, that's not our worry. We're fine, and that's what matters.

Q: Mom – are they Okies?


A: That's enough: now, be still and enjoy your own trip.
Eastward we pushed: Barstow, Flagstaff, Albuquerque, Santa Fe, Amarillo (god, Texas went on forever!), Oklahoma City, St. Louis. License plates to watch; roadkill that was a user's guide to the fauna of south-central America (Could I make a coonskin cap of that raccoon we just saw? What's an armadillo anyway?); regional cuisine (except we didn't call it cuisine then, just hick food) – I became fixated on 'broasted' chicken for some reason, that and chicken-fried steak, yumm!); the clothes changing from cowboy hats and bolo ties to bib overalls and tractor-brand caps, to slacks, button-up shirts and Fedoras.
And, all the way across the big country, in their rolling majesty – the semi trucks: citizens of nowhere, rumblers-through of everywhere. Oh yes, the big rigs, the semis, the long-haul boys. Now, they were something to fire the imagination of a small boy! Just the names: Mack, Freightliner, Peterbilt, Kenworth, and the names of the hauling outfits, that you saw over and over again till you knew the logos, and the slogans, by heart: Navajo ("route of the blue-eyed Indian"), P.I.E. (Pacific Intermountain Express), Consolidated Freightways, Ringsby, Yellow Freight, Transcon – they became my friends and traveling companions all along Route 66.
Sometimes the drivers waved to me, and sometimes, when I was very lucky, they honked their horns, and smiled down at me. Why did they do this? It took me a while to figure out that, unlike the adults in my world who didn't seem to need anything, these guys were lonely – even my childish waving, though I'm sure it was annoying at times, was a sign of humanity for them. Imagine that: I had something to offer an adult!
Of course, like most small boys, I was fascinated by trains, too, especially the sleek-looking 'streamliners' that flashed past on their way from one coast to another. And sometimes we had to stop at a crossing while an endless succession of rail cars rattled past us. My Dad was impatient, as always, probably anxious to get on to our night's destination, but I, with a small boy's relation to time, could revel in it, enraptured by all the different types of cars, with names – Great Northern (with that cocky mountain goat prancing on the sides), Santa Fe ("All the way, with Santa Fe!"), Southern Pacific – that became familiar after awhile, betokening the romance of faraway places and never-to-be-met strangers, and of course, my endless questions, which by now I had learned to keep to myself: Where are they coming from? Who is shipping this stuff, and where, and why? Why is it needed in one place and not another? What's it like to be an engineer? Do their families miss them? How do they decide when to blow the whistle, and how many times?
But trains, though magnificent, and fascinating, were of such a scale that they seemed to be from another solar system, whereas 'my' trucks, and my truckers, existed down here in my bailiwick. Truckers existed in real life: I could see their frustration, and commiserate with them, as they struggling at a snail's pace up the hills, as lines of angry cars passed them, each one watching for oncoming traffic, then zipping out into danger to get by; and then, on the downhill side, playing truckers' Russian roulette, as they balanced the need for speed, to make up the time they lost on the uphill, with trying to avoid going out of control and plunging to disaster – their gears grinding viciously, their brakes hissing like angry cats.
Now, this was a connection with being a man I could actually conjure with! For at least a year or so there, when my parents, or anyone else, asked me what I was going to be when I grew up, I would say proudly, "Gonna drive a diesel pruck (sic)." In fact, I think my parents only asked in order to hear me say that. And of course, it was unspoken, but clear, that plying such a lowly trade would be beneath me – beneath us. What they didn't hear, or pay attention to, was that, hidden in my answer lurked some pretty clear hints about who I was and what I actually would go on to do when I grew up.
Like truck driving, psychotherapy is "long haul" work, requiring consistent, sustained effort over long periods of time. Semi drivers, like therapists, are entrusted with a precious cargo, a cargo they have to 'see through' to the end of the line, and mostly alone.
There is no boss sitting there looking over your shoulder, no fixed set of rules telling you exactly what to do each minute: it's up to you to get the job done, in a way that works for you and the client. It takes personal dedication, and perseverance, to do the job well – no one is there to tell you that you put in a half-ass effort on a particular day. Also, like a trucker, it's up to you to 'entertain' yourself during the long haul, to keep it fresh, rather than fall prey to boredom, dullness or lack of involvement in the task, to see it not as endless repetition, but ever new, ever different.
I watched the truckers when we would stop to eat or rest. How they joked with each other, flirted with the waitresses, told 'war stories' about road life, and swapped gossip and news about other guys, other truck lines, their bosses, their equipment, road conditions, best routes, and best places to eat, or pull over and catch a few winks. Like sailors, they had their own jargon, and their own network of news and information. I came to understand that, while they were solitary, cut off and isolated in some ways, in other ways they were privileged insiders in a world all their own.
And that's how it is with therapists, too: sure, everyone knows, basically, what you 'do', but they don't know at all what you really do. It takes another therapist to understand what it's like to listen for hours, to have it be 'about the other person' all day long, to sustain your interest, your involvement, your dedication, to improve your skills and hone your craft not because it's required, but because it matters to you to do the best job possible. Like truckers, therapists have to take inner pride in 'getting the load through', in a timely manner, undamaged and in good shape.
And best of all, now I don't have to wonder, Where are those people going, and why? They come right into my office, sit down, and tell me.
So, to all the people who asked that little boy what he was going to be when he grew up, I actually gave you the right answer, folks, if you listen with your heart and squint a little:
Gonna drive a diesel pruck!
Our cross-country trip down Route 66 rolls on in the next installment:
 Route 66, Part II: Almost Human – West Virginia.
Note: All clinical vignettes herein are significantly altered to protect patient confidentiality and privacy.