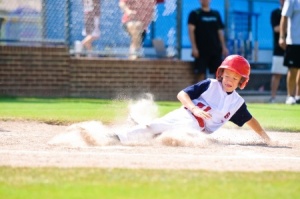 This is it: the last day of my vacation. Part of me (a Big part!) wants to mope, to pout and kick, and say, "Waaahh – now it's all over!" But what is it, really, that's 'all over'? The whole thing is just my own mental division of life into "vacation" and "not on vacation" – that's all. Yes, it's true, on vacation I don't have to 'work', but then I love my work. Yes, I get to do "whatever I want" on vacation, but being of service to other people is also very much "what I want", so that one doesn't really hold water, either.
I went to the Baseball Hall of Fame again today, just to be there one more time, and let the spirit of it sink in a little more deeply. And this time, before leaving, I found myself at the gift store, looking at all the stuff you can buy – all the stuff that represents one's love for the game: autographed balls, photos, team hats and jerseys, books, posters. The 'old' part of me would certainly have found something to 'bring back alive' from Cooperstown, some doodad, or keepsake or memento that I could stick on a desk or a wall and smile at every so often.
But I found myself walking around and just smiling. I no longer need any 'stuff' to remind me of my love for baseball: I have it in my heart, always.
It's like when people in my life find out I like baseball, and they ask me, "Oh yeah – so who are you rooting for?" And increasingly, I can't answer that question – it's not even relevant. Oh, I might mention that I follow my local teams, sure, and even 'keep my eye on' a few more out-of-town teams each year, like I would 'root for' the progress of a favorite child.
But all of that jazz matters less and less to me; the real answer is that I just love baseball: I love the unexpected way the season unfolds each year, the new kids that force their way in, the players that suddenly explode in a blaze of unexpected glory, the comeback stories, the old guys making use of their one more chance in the summer sun. That is to say, I hold baseball more lightly than I ever did before – deeply and lovingly, but more lightly. I won't say it doesn't matter what happens, but more and more, what really matters is that it happens.
And I find that this is how I feel about my work with therapy patients, too: increasingly, I have less and less 'ego' involved in exactly how it goes. It's more the privilege and honor of being able to be there while whatever happens, happens. It isn't about me, but rather about clearing a pathway for the patient to follow. I'm not the 'doer' anymore – I'm just the snowplow. In other words, I'm holding the whole process more lightly – deeply and lovingly, but lightly.
So I got to thinking that I want to be able to hold my life more lightly, now. I don't want to be making arbitrary distinctions between being 'at work' and being 'on vacation'. I don't want to be sad because I'm leaving a vacation, or happy that I'm going on vacation. I want to clutch life to my chest, dearly, like I hold baseball: to love it, deeply and indiscriminately, for whatever it is, no matter how it 'turns out'; to be my own snowplow, rather than identifying with the ups and downs ("I'm bad/I'm good"), or even differentiating between ups and downs. There are no ups and downs – there is just life, one minute following the next. There is just paying attention to what develops, and being interested, no matter what develops.
Instead of, "What the hell is that all about?" I want to say, "Gee – what is that all about?"
It's like the parents who complain to me about their child, "He just does that for attention." And I tell them, "Well then, why not give him attention?"
So, I'm taking a vow, though I want it to be a realistic vow. A recovering alcoholic doesn't say, "I'll never drink again," he says, "I'm not going to drink today, and I'm going to follow my program, and we'll see what happens."
So my vow is simply this:
________________________________________________

I'm going to try to be kind to myself at every step, stop making arbitrary distinctions between 'good' and 'bad', and just pay attention as closely as I can, appreciating each thing that comes down the pike, remembering that I really have no way of knowing what each thing actually 'means', in the larger sense of things, or what it is going to lead to. I'm going to try to not miss my life, by obsessing about details, or wailing that it didn't go 'my way'.

And most of all, I'm going to try and treat myself like a favorite child, and love myself, no matter what: my value is not derived from my actions, but from my essence.

I know this will be hard, so I will forgive myself when I screw up, when I judge, and when I get distracted. I'm going to love my life like I love baseball, like I love doing therapy: deeply and indiscriminately, but lightly. Like baseball, loving my life will be hard, but fun. Yes, I dare use the word 'fun', because anything you love deeply enough is fun. And crazy. And unexpected. And that's why it's fun, because you don't know what's going to happen next, but you relish it – you relish it all, come what may.

As someone once said,

Your life is not your master.
It is your child.

So treat it as a beloved child: accept it fully, and hold it dear.

______________________________________________________
Okay, I'm done here now.
Tomorrow, I get on that plane and come home. Come what may: cancelled flights, missed connections, lost luggage, new friends, crazy stories, air pockets, smooth landings, seeing my family, my own bed, fortunes, misfortunes.
All of it.
I don't know what you're doing tomorrow, but I hope you'll 'take the pledge' with me, in your own way. For what it's worth, I've shared my way with you: I'm finally putting Life up there in the best possible company, with Therapy, and Baseball.
What's your way?
I hope you'll join me, and come home.
Play ball!
Note: All clinical vignettes herein are significantly altered to protect patient confidentiality and privacy.