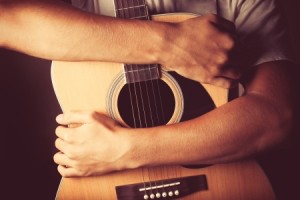 When I was a teenager, a friend and I took beginning guitar lessons at a local community center. I remember it was the Friday after Thanksgiving, because I thought it rather odd that the place would be open that day. We took our seats in a nondescript room full of gray folding chairs. Finally the teacher showed up – a tall, gangly lady who looked like a road show Olive Oyl. Oh well – we were still ready to become stars!
After a few introductory remarks, she took her guitar out of its case with a flourish and said, "And now, C major!"
She said it like Carl Denham, on opening night: "And now, ladies and gentlemen, the Eighth Wonder of the World: Kong!" She had managed to track down the elusive C chord in its lair, and now, out of the kindness of her heart, she was willing to share it with us.
On her command, we all jammed our recalcitrant fingers in place on the fretboard and strummed: poor old C major – he had come all this way for this? We did it over and over again, probably clearing out the neighborhood of anyone within hearing distance.
Finally, she rapped her stick on the back of her chair, calling a halt to the wholesale slaughter. Then, once again with all due pomp and circumstance, she drew herself up and announced, "And now: G Seven!"
It was hard not to break out into applause, hoots and whistles. I mean, heck, we already had King Kong. And now, she had brought along Godzilla, too? Talk about an embarrassment of riches!
For the next fifteen minutes, we perpetrated the same crimes on G-7 as we had on Mr. C. I heard a rich and varied assortment of under-the-breath curse words used, too. Some of 'em, in Spanish and Chinese I think, sounded like real beauts, but of course, I can't verify that, being a lowly monolingual curser.
Once again, Olive tapped her stick on the chair.
"Alright, class, time's up."
Then, wagging a long, bony finger at us, she added, "Now learn those two by heart: we're going to be using them next time."
Wow, that meant a song was in the offing: an honest-to-god song! Oh my god, what would it be: Love Me Tender? Poor Little Fool? Party Doll? The mind boggled.
Well, we went home and practiced those chords all week, until our fingers were mincemeat. We ate, slept and dreamt C major and G-7. We were ready to take on anything she could throw at us – as long as it involved only those two chords!
The next Friday, we showed up bright-eyed and bushy-tailed, lugging our dime-store, nylon-string guitars to our assigned seats, giddy with expectation about the hot songs we'd be learning: heck, by Christmas we'd be wowing the girls!
Suddenly, Ms. Oyl tapped her baton smartly on the chair back, bringing us to order. There was a reverent hush throughout the room.
Then she sat down and said, "Guitars at the ready, everyone!"
My breath caught in my throat. This was it: the beginning of our meteoric rise to stardom!
"Now, we'll start with C. Strum downward once on every beat. Then when I say, 'Change,' we'll all change to G-7. Everyone understand?"
It sounded easy enough: we nodded in unison.
I hauled my fingers into place for C major, making sure every one was placed just so. Look out, world, here I come!
Then she tapped her stick briskly again, like a real conductor, and began:
"Hang down your head, Tom Dooley, 

Hang down your head and . . ."

                                                 . . . suddenly, she shrieked, "CHANGE!"
It was the funniest thing I'd ever heard in my life. I turned to my friend, and we both got the giggles so bad we could barely breathe.
Ms. Oyl gave us a glare, but soldiered on, undaunted:
"Hang down your head, Tom Dooley,

Poor boy, you're bound to . . ." 

                                        . . . she bellowed, "CHANGE!!!"
We were helpless, doubled over – howling, baying, with laughter. And the severe, reproving look Ms. Oyl shot us only made us laugh even harder. There was nothing to do but to pack up our guitars and run off into the night.
We sprinted through the gathering darkness to the parking lot, like kids expelled from school, projectile-laughing until our stomachs hurt. Then, when we reached my friend's beat-up old '57 Ford, we looked at each other and without a word, knew what we were going to do.
As he pulled the Ford out into traffic, we rolled the windows down and cruised the night-lit boulevard. First we would parrot Ms. Oyl's shrill, "Poor boy, you're bound to . . .", then scream, "CHANGE!" at pedestrians all the way home, weak with insane laughter at their stunned reactions.
I really don't know what set off the whole crazy outburst: was it the shock of seeing the priggish, controlled Ms. Oyl yelling, CHANGE!! at the top of her lungs that did it, or the goofiness of the class, which suddenly made our dreams of stardom seem pitifully ludicrous, or simply that once you lose control like that, all is lost anyway, so you might as well go ahead and make a total fool of yourself?
Whatever it was, the whole episode was enough to make me put down the guitar for years – until I got to grad school, in fact. Playing the guitar had become 'tainted' by the experience, forever associated with ridiculousness. It doesn't really make any sense in retrospect, but sometimes, things go that way: something gets associated with a particular context, giving it a 'coloring' that stays with you, and even trumps reality, in some cases.
It's like a young woman patient of mine, years ago. We were talking about the movie Thelma and Louise, in which Brad Pitt had a small but striking part – one of his first in a big movie.
As we discussed the movie, my patient made a point of saying about Pitt, "Aw, that guy's nothing."
Hmm. That was interesting, because a number of female patients had specifically mentioned noticing him in that movie, and I don't think I'm breaching any confidences by breaking the news that they certainly did NOT think he was "nothing."
So, out of curiosity, I followed up on her comment, and she eventually acknowledged that she'd gone to the film with an older woman friend of hers, someone she looked up to, who had made some disparaging comments about Pitt after the movie – stuff like, "What a dork," or "He looked like the Mama's boy type to me."
And that had 'set' my patient's opinion of him.
But as a result of our conversation, she went to see the film again, "as an experiment." This time, her opinion of Brad Pitt took a one-eighty. As I recall, her revised assessment went something like this:
"He may be a dork, but oh man, what a dork!"
Well, much of doing therapy is about noticing, pointing out, and challenging these unconscious contextual 'taintings' of things – ways in which a patient's opinion or take on something has been set in concrete because of the (sometimes gratuitous and unintentional) influence of previous people or circumstances.
Here is another example, from my 'case files': one day, Mary Beth, a woman of about thirty, came in, ostensibly to work on her "intimacy issues." Great, I thought – let's go: intimacy issues are like catnip to a therapist. She was attractive and, as my mother would have said, "well turned out," meaning that her 'ensemble' was not only pleasing to the eye, but kind of unique in a way that was hard to describe: I suppose that overused word 'style' would convey it best.
We started to talk about her background. Turns out her mother was a nationally-recognized artist – the kind who'd had one-woman gallery shows in New York, the kind who had paintings commissioned by the rich and famous. Her father was dead, but he'd been an architect and engineer. She had an older sister, who was also an artist.
Before she said it, I knew what was coming next: that only 'left' the role of Architect or Engineer for Mary Beth; her sister had already 'taken' Artist.
After we finished a cursory overview of her background, I asked her why she had come to see me. She said, "Well, my life is fine, I guess, but, somehow, I don't seem to think so. I have a nice husband, a good job, and two great kids." She looked down in guilt, "But, I don't know . . ."
"So what's the part about 'intimacy problems'?"
She nodded. "Oh, Burt – that's my husband – says I must have intimacy problems, because I'm unhappy with our life, when we have, you know, a good life."
Well, I already had my own ideas about what her 'intimacy problems' might be. Something about the way she was dressed, and the fact that she'd said of her sister, "She's the artistic one," were ringing a bell in my head. I decided to follow up a bit.
"So – tell me about your job."
She gave a little start. "Uh, what about my job?"
"Well, just, you know, what it's like, how you feel about it – that sort of thing."
She shrugged, doubtless surprised that we weren't delving into her 'intimacy issues' first. "Well, I'd guess you'd have to say it's . . . fine. They need something done, and I do it." She paused, searching for anything further to say about it, and came up empty. "That about sums it up."
I laughed. "So, your job is as follows: they need something done, and you do it." I paused. "And that about sums it up." I paused again. "'Next topic,' huh?"
She had to smile. "Well, there's a little more to it than that."
"Yes, I'm sure there is, but that's what you said: it's fine, and that's about it."
Mary Beth licked her lips and looked at me with narrowed eyes, clearly thrown off balance by my focusing on the 'wrong thing.' Then she gathered herself. "Just what is it you're trying to say – uh, Doctor."
"Gregg – please."
She gave a deliberately fake smile. "Okay, then, Gregg Please."
I smiled – good, she had a sense of humor: we could use that. "I'm trying to say that when you tell me about your job, it's colorless, drab – like it's in black and white." I waited a moment. "Is that how you see it?"
She sighed impatiently. "Look, I said it's fine, didn't I? I mean, what more is there to say?"
I nodded. "Okay, I'll tell you what: ask me about my job."
She shook her head, confused. "What do you mean?"
I repeated. "Ask me about my job." I gestured with my hand. "Go ahead."
She looked at me in disgust. Then, in a condescending, sing-song voice, she said, "Okay then, tell me about your job."
I shrugged, disinterestedly. "People come in to ask for help, and I help them."
A small smile played around her mouth.
I continued. "Now say, 'Is that all?'"
She rolled her eyes. Clearly she was in the presence of a true idiot. She said, "Is that all?"
I shrugged again. "Yep – it's fine."
She nodded thoughtfully, beginning to 'get it.' "So, you're saying that I'm not enthusiastic enough about my job?"
"No, only that people aren't enthusiastic about jobs that don't do them justice."
"What do you mean, justice?"
I pointed to her outfit. "Where did you get that dress?"
She looked down at it, then at me, clearly 'off her feed' again. "Why are you asking that?"
"Please, just humor me."
She smoothed the fabric lovingly. "Well, as a matter of fact, I got it at a thrift store near here – over on College Avenue, a long time ago."
I smiled. "You love it, don't you?"
Her eyes brightened, and her mouth turned up. "Yes, as a matter of fact." She paused, confused. "But, how did you know that?"
"Well, the way you caressed it, and the fact that it would take love to put together an outfit like that – love, and talent."
She smoothed the skirt again. "Oh – you like it?"
"Yes. I bet you could tell me where you got every single thing you have on."
She laughed. "Yes, as a matter of fact, I could." Her eyes were shiny-bright now.
I waited, letting her make the connection herself.
She scooted forward in her chair, licking her lips again. "Are you trying to tell me . . . that . . . my reaction to my job and to my outfit are . . ."
"Like night and day? Yes, ma'am."
Ten seconds went by, before I continued. "Were you artistic – as a kid, I mean?"
She shook her head slowly. "No – not really. I mean, I did fine, I guess, but my sister . . ."
"She's the artist – like your Mom?"
She bristled. "Yeah – that's right. What about it?"
"And what did your Mom say about your artwork?" (I was looking for a 'keyword' here, and seconds later, it came.)
"She said it was, you know, fine."
I repeated, "Fine," then waited. "Uh huh – same thing you said about your job: it's 'fine,' too."
She cleared her throat and rubbed her nose thoughtfully. "So, 'fine' means mediocre – is that it?"
I nodded. "Apparently – in your family, yes."
She started to protest. "But my mother was a famous artist, so if she thought my stuff was . . ."
"What: 'fine'?"
"Yeah – mediocre, well then that's that, isn't it?"
"And besides, your sister was the artistic one, right? And there's only room for one, right?"
Mary Beth twisted her fingers together, pursing her lips tightly. The words came out slowly, one at a time. "Are . . . you . . . saying . . ."
I gestured to her outfit. "I'm saying that you clearly have a gift, and that your eyes sparkle when you talk about the lovely clothes you put together." I paused. "You can take it from there."
Time was up. I only hoped I hadn't gone 'too far' for a first session.
The next week she walked in, barely able to contain herself. She handed me a sheaf of papers, saying, "I hope you like it." She covered her mouth with both hands.
I leafed through her 'portfolio' – beautifully-wrought fashion drawings of amazing 'outfits.' I smiled at her. "Now, I think this shows you what you can do, when you follow your passions."
She laughed with relief. "You mean it's better than 'fine'?"
"Way better than fine! I'm no fashion expert, but it's obvious that you're very, very gifted."
Her eyes danced.
"And what's more, I think we may have solved your 'intimacy issues,' too."
She blushed and looked down. "I'm pretty sure Burt would agree with that."
"Woo Woo!"
She waved her hand to shush me, grinning from ear to ear.
It took a lot of work together, and weathering some hard times, but once she'd freed herself from the 'tainting' of her family mythology, Mary Beth eventually went on to have a 'fine' career in the fashion industry.
And me? Well, sometimes, when I'm sitting with a patient, and we're working on some kind of conditioning from the past, and close to a breakthrough, I still smile and think to myself,
Poor boy, you're bound to, CHANGE!!!
Note: All clinical vignettes herein are significantly altered to protect patient confidentiality and privacy.